'End Days' Brings Rapture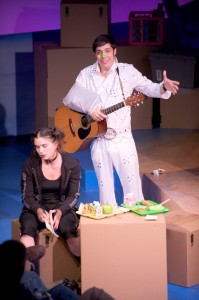 Review by guest blogger: Karin Koser
Horizon Theatre Company's smart and sassy production of "End Days," a play that revolves around Armageddon, blends hilarity with one character's certainty that the world is ending.
Fresh-voiced playwright Deborah Zoe Laufer brings a zany, entertaining twist to the prediction of the world's impending doom. Having recently found Jesus, Sylvia Stein (Stacy Melich) a former reformed Jew, enters her kitchen carrying a load of Bibles.  Jesus Christ, dressed in a robe and sandals, follows closely behind. With Sylvia's expectation that Armageddon is coming soon, Sylvia—with Jesus' help—tries to save as many souls as she can. Her toughest sells are in her own household: her husband, Arthur (Robin Bloodworth), and her whiny, foul-mouthed, goth daughter, Rachel (Maia Knispel).
Jesus (Adam Fristoe) takes turns visiting Sylvia, while astrophysicist and atheist Stephen Hawking (also played by Fristoe) visits her atheist daughter, Rachel. Fristoe uses physical comedy masterfully and subtly throughout the play. I'm not sure whether I liked him better as the cardboard Jesus or as the realistic Hawking, whose funniest bit is when he smokes pot with Rachel.
The play has many high points, starting with the opening scene featuring an Elvis-clad, guitarist and singer Nelson Steinburg, who has a crush on his new neighbor, Rachel. Nick Arapoglou is believable, lovable and adorable in his role as the bumbling, nerdy, misfit Nelson. He brings the crumbling Stein family closer and brings Arthur out of a depression he's suffered since losing his job due to 9/11. With all the over-the-top scenes he has, Nelson never overacts, unlike Knispel, who is a bit hard to take at times with her emoting. Hearing Sylvia say, "Thank you, Jesus!" with the zeal of a Pentecostal televangelist never gets old, although Biblical literals may find it offensive.
Laufer's dialogue is smart, thought-provoking and easy to relate to. Her writing is full of humor, comparing evangelical Christianity to Orthodox Judaism, and professing, "You can't be Jewish on Saturday and evangelical on Sunday to cover all your bases."
Expertly directed by Heidi Cline, "End Days" is a joy to watch. Bloodworth is terrific—except for his inconsistencies with his character's Boston accent. His "comeback" scene moved me to tears. Melich is outstanding as the overly zealous, anxious convert, and Arapoglou is an up-and-comer to keep your eye on. Knispel is annoying at times, but redeems herself when she stops "acting" to make me want to see her in a softer part. And Fristoe nearly steals the show.
"End Days" at Horizon Theatre Company runs through June 28.
Reviewer Karin Koser is a writer, producer, publicist and sometime actress, who still regrets not taking a gap year in New York after high school to pursue acting as a career.
Susan Asher adds: Karin, I'm with you on much of this. But I think no one comes close to stealing the show from Stacy Melich, a master actor who passionately plays each moment as if she were truthfully the character Sylvia. And what a character she is!