'The Outrage Machine' at The Essential Theatre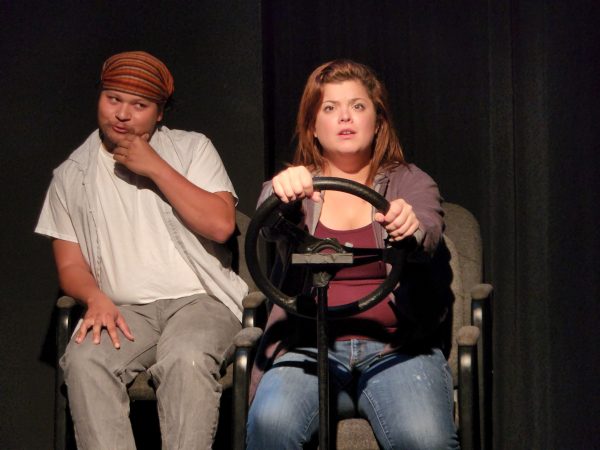 "The Outrage Machine" looks at today's media – newspapers, magazine, social media posts – and the way readers and publishers react to so-called journalism. It's an excellent play that is making its world premiere at The Essential Theatre, and it deserves to be performed on many more stages.
Rina (Hannah Morris), an Uber driver, picks up a passenger, Marlen (Jeff Hathcoat), who offers to give her $50 to drop him off at a bar, keep the meter running and stop the meter two blocks away. He's planning to avenge the death of a leopard who died in a hunt at the hands of a tycoon. Rina has to choose: ethics or money, and that's the crux of life in "The Outrage Machine."
Living with her sister Ellie (Ellie Styron) to make ends meet until she finds a full-time job, Rina goes out on a blind date to cheer herself up. She meets Neil (David Soyka), an entrepreneur who runs a website known for its sensational headlines and outrageous stories created to capture readers and clicks. Only at the very bottom of the story does he disclose the truth: the story is a lie. Rina is appalled at the lies and says this type of writing is deceitful.
Soon thereafter, Rina writes a social media headline that gets lots of clicks and receives an offer from a publisher, Henry (Ajejandro Guitierrez) to work as a freelancer creating sensational headlines for his new alternative newspaper, The Centurion. Her headlines attract an inordinate amount of clicks, bringing her notoriety and increasing her drive for telling stories that aren't being told. But in time Rina, realizes that even the alternative newspaper out to tell the truth about stories that typically never get written in traditional newspapers, won't publish stories that might be contradictory to environmental activist points of view.  
However, the superstar headline writer discovers that there can be bad consequences to telling the truth as organizations can fight back and fight dirty. Interspersed throughout the play on the screen behind the actors are real news headlines that strike a reader like a thunderbolt and hail from both yellow journalism newspapers and reputable ones like Vox, the New York Times and BuzzFeed.
While the overall acting may be lacking from this production—except from Guitierrez who is believable in his scenes—the writing and storyline make this production worthwhile. This is a smartly written play that deserves to be performed in well-known theaters around the country.
Written by Daniel Carter Brown, directed by Peter Hardy, "The Outrage Machine" was the co-winner of the 2020 Essential Theatre Playwriting Award and runs through Aug. 27. Due to COVID, it is just now making its premiere. Festival tickets are now on sale at www.essentialtheatre.tix.com.
Cast:
Daryl Patrice (Val Moon)
Matthew Ferro (Ari, Evrett, Host)
Anna Fontaine (Blair)
Jeff Hathcoat (Marlen, Jude, Whit)
Kelly Nguyen (Tay, Corie, Kennedy)