'A Midsummer Night's Dream'
Needs to Scream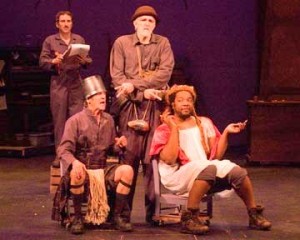 Perchance to listen, to hear actors who cast voices loud enough to be heard. Ay, poor audience, thou hast strained its ears so to hear voices that speak, yet thine speech is unknown. Forsooth, dear duke, cannot ye speak strong so that ears can hear, or use something  known all to the world, a microphone?
While Mark Kincaid as Theseus, Duke of Athens; and Oberon, King of the Fairies; gave a soporific and often barely heard performance in Georgia Shakespeare's "A Midsummer Night's Dream," Chris Kayser acted wonderfully and could always be heard. As Nick Bottom, Kayser breathed life and passion into all his scenes, and often emulated the antics of Groucho Marx, causing a roar among the audience.
In this romantic comedy by William Shakespeare, love goes haywire when the fairy Puck intervenes with love. But, he finally rights his wrongs and successfully unites two couples, whom the duke invites to join in a triple wedding with him and his love.
As a gift to the duke on his wedding day, day laborers perform a play, "The Most Lamentable Comedy and Most Cruel Death of Pyramus and Thisbe." Director John Dillon has created the most hilarious version of the story of Pyramus and Thisbe I've seen in five separate productions. The story of Pyramus and Thisbe, two lovers who are forbidden to marry and commit suicide, mirrors the conflict in "A Midsummer Night's Dream," in which Hermia has been forbidden by her father to marry Lysander.
In the play-within-a-play, young lovers Pyramus and Thisbe live next door to one another, but their homes are separated by a wall, as their parents have forbidden the two to be together. While performing the prologue, the amateur actors act out the couple's tragic story using Ken- and Barbie-like dolls as actors. There is little more funny than watching two grown men, Pyramus, played by Nick Bottom (Kayser), and Thisbe, played by Francis Flute (Neal A. Ghant), acting like little kids playing with dolls and speaking in girlish, cartoon voices to reenact a melodramatic love scene. They are just as hilarious when they actually perform the scene without the dolls, and try to kiss one another with wagging tongues through a crack in the wall, represented by the fingers of Tom Snout (Tim McDonough).
Designed by Tom Lee, the nearly bare stage, which contains only a few background panels, and hanging ropes and lights, at once becomes a palace, a forest, or the setting for a play. The set quickly changes as actors enter on a wheeled stair unit, or on an elevated wheeled platform, or on a clothes rack, all of which are rolled in while actors are speaking. While interesting to watch, it sometimes makes it difficult to hear actors over the sounds created from the rolling wheels.
Aside from problems hearing actors, the production is very good. The whimsical, playful music, composed by Klimchak, complements the production from beginning to end. Befitting with the zaniness of the play, Peter Quince (Chris Ensweiler), the director of the amateur actors and narrator, plays a toy piano and a kazoo. Musician Mark Cohn creates interesting sounds from kiddie-like instruments. He squeaks from one that looks like a cheap, toy horn. Invented by Klimchak, the "funnelofone" consists of a baritone horn mouthpiece—courtesy of the legendary Bruce Hampton—attached to a length of vinyl tubing with an orange, plastic funnel at the end.
"A Midsummer Night's Dream" is highly entertaining, and most of the actors are very good, if not excellent. Special recognition goes to fine performances by Kayser, McDonough, Ensweiler, Michael Bradley Cohen as Puck, Sarah M. Johnson as Hermia, Allison Leigh Corke as Helena, Joe Knezevich as Lysander, and Daniel Thomas May as Demetrius.
"A Midsummer Night's Dream" at Georgia Shakespeare runs through July 31.